Building resilience
and mental wellbeing for children and young people
Contact
Staff Wellbeing
Staff wellbeing and resilience is the foundation of a Whole School Approach to emotional wellbeing and mental health in schools. Especially so in the time of lockdown, recovery and going back to school.
We will offer two sessions per term in this academic year. See our training pages for more details
Staff wellbeing support
Anna Freud have some excellent staff wellbeing resources as part of their free 'Schools in Mind' network.
There are plenty of staff wellbeing resources / surveys out there. This one caught our eye recently:
Wellbeing guide for staff working in schools and trusts: Managing the wellbeing of staff during COVID-19 recently published by the LGA
Session resources
Recording of session held on 05 05 22 - given by Dr Clare Lowry Principal Education Psychologist
Presentation slides (from 2020/21 sessions)
Staff Wellbeing Support
Education support line
No matter what you're feeling, our free, confidential helpline is always here 24/7 with trained counsellors here to listen and help you find a way forward. Please do contact us if you need to. Our Helpline number is 08000 562 561.
Schools Advisory Service
This is a staff absence insurance company and there is a cost involved but we're told by heads using them that they have an excellent staff wellbeing package.
https://schooladvice.co.uk/pastoral-and-wellbeing-resources/
Headrest
A Head / CEO specific support line set up by retired, experienced headteachers to listen and offer peer support.
Suggested resources
Useful websites, tools, resources and books
Take What You Need Tokens - Dr Karen Treisman (more great resources on her website)
(Click image to download pdf)
Here is a lovely way one school used the tokens: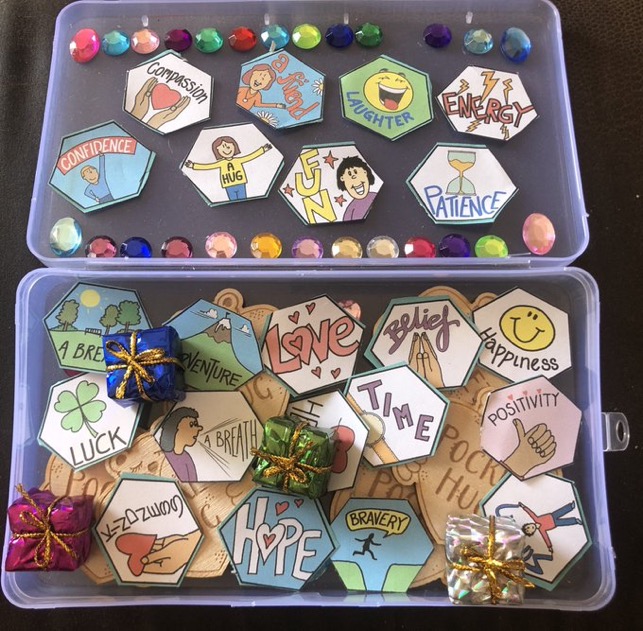 8 ways to improve staff wellbeing - Dr Pooky Knightsmith
Covid-19 and the classroom - staff wellbeing (impact report from education support line)
A fabulous webinar from Pooky Knightsmith and a lovely guide too (pdf)
Wellbeing Measurement for Schools - Staff Survey PDF (published March 2021 by Anna Freud National Centre for Children and Families)
Anna Freud have some excellent staff wellbeing resources as part of their free 'Schools in Mind' network.
The DfE Staff Wellbeing Charter
The education staff wellbeing charter is a declaration of support for, and set of commitments to, the wellbeing and mental health of everyone working in education. All state funded schools and colleges are invited to familiarise themselves with the charter, and to sign up when it is available in Aautumn 2021, as a shared commitment to protect, promote and enhance the wellbeing of their staff. It is voluntary and there is no deadline to sign up.
Big Education - Staff Wellbeing Playbook
The purpose of this playbook is to share insights and ideas about how to support staff (and your own) wellbeing at this time. It sets out a way of taking stock, having conversations, considering ideas and starting to form a plan for
staff wellbeing - so important at this time! Thought provoking and practical - well worth a look.
Self care wheel - download
Staff support padlet
This is a super idea from Berrycoombe School - lots of staff wellbeing links via an easy to access / update Padlet.
Thank you Michelle!