Building resilience
and mental wellbeing for children and young people
Contact
'Same Storm, Different Boats...' Resources
Wellbeing Webinar 1
Download the presentation slides (with notes) - zip file (big!)
Presentation slides 26th November 2020 (slightly different from the above) - zip file (big!)
Same Storm, Different Boats Poem
START Questionnaire - Adapted from UCL Stars Study
Setting the Scene
Recovery, Re-introduction and Renewal: Safe And Successful Returns To School. A Handbook For Schools And Education Settings Following Critical Incidents. NASEN
Update from Ofsted November 10th 2020 - link to Amanda Spielman comments and full reports
https://www.facebook.com/groups/recoverycurriculum Brilliant Facebook group sharing ideas / information / resources / answering questions and requests for advice for all school staff.
Whole School Approach
The Recovery Toolkit - Created by the Educational Psychology Service in partnership with Headstart
The Mentally Healthy Schools Workbook by Dr Pooky Knightsmith (this is the resource where the 6 Litmus Tests are explained in more detail) - If you are interested in finding out more about the resource. Contact Us
How Mentally Healthy is Your School? - A Simple Audit - The 6 Litmus Tests from the workbook above in a short audit tool.
Start Now Online Wellbeing Action Plan - created by Young People in Cornwall for Young People in Cornwall
Download a copy of a blank Wellbeing Action Plan
Neuroscience
Dan Siegal video



Brain Chemicals
Love these simple ideas for boosting 'happiness chemicals' from Tina Rae
Wellbeing and Resilience
Five Ways to Wellbeing (by YP involved in HSK)
Staff Wellbeing
Education support line
No matter what you're feeling, our free, confidential helpline is always here 24/7 with trained counsellors here to listen and help you find a way forward. Please do contact us if you need to. Our Helpline number is 08000 562 561.
Take What You Need Tokens - Dr Karen Treisman (more great resources on her website)
Here is a lovely way one school used the tokens: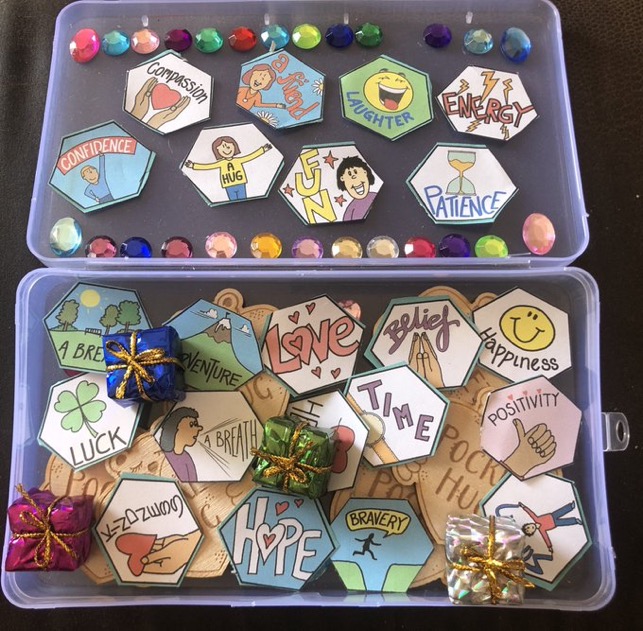 8 ways to improve staff wellbeing - Dr Pooky Knightsmith
Covid-19 and the classroom - staff wellbeing (impact report from education support line)
A fabulous webinar from Pooky Knightsmith and a lovely guide too
Why Mindfulness is a superpower... (https://youtu.be/w6T02g5hnT4)
General Resources
Links and Resources list (from the original DfE material - pdf)
Our Headstart You Tube Channel is full of great wellbeing vidoes for C&YP and staff wellbeing
Virtual Ring Binder
The VRB is a searchable online resource bank to support mental health and wellbeing work in Cornwall.
Resources specifically referred to in the webinar can be found by searching using the tag 'SameStorm' .(to be completed)
Headstart Hub - Schools MH&WB Learning Network
Join the conversation on the Headstart Hub - ask questions / share ideas / find out about 'Same Storm...' part 2 themed sessions and get access to exclusive live events for hub members including a fantastic session with Dr Tina Rae in December talking about her wonderful book 'A Toolbox of Wellbeing':