Building resilience
and mental wellbeing for children and young people
Contact
Support / information / activity ideas for families
Home Learning resources, fun activities, ideas and links
See also Keeping Busy on our Start Now young people website
Help / advice support
How to balance working from home whilst looking after kids:
https://www.coursesonline.co.uk/coronavirus-how-to-work-from-home-while-you-have-a-family/
This guide is here to help you navigate this new horizon and stave off feelings of overwhelm at a time when your past routines are no longer a luxury you can afford, and support is harder to access.
Check out the art room at Place2Be
Education Support are offering lots of help during this time. They are the only UK charity dedicated to supporting mental health and wellbeing of education staff in schools, colleges and universities.
Covid, Anxiety, Stress- Resources & Links
Some resources to support children and adults around anxiety, worry, stress, and fears; including specific Covid information.
Seven days of kindness calendar
Mental Health awareness week - Kindness
TIS Resources - Creating opportunities for connection experiencing being held in Mind.
Supporting your teen's wellbeing during coronavirus
Advice for you if your parent is a key worker during the coronavirus pandemic.
Cornwall Council Coronavirus information / support including wellbeing support for families / children
Penhaligon's Friends www.penhaligonsfriends.org.uk are available to provide support for bereaved children and their families
Penhaligon's Friends download their guides about helping young people manage their emotions and Supporting C&YP through bereavement
Parent and Carer Council Cornwall - website, Facebook and Twitter
Young People Cornwall - www.your-way.org.uk have online chat for young people every day 09.00am - 09.00pm
Young Minds www.youngminds.org.uk excellent advice / info and support for parents / young people
Safer Cornwall - Help for domestic abuse during coronavirus
Safer Lives website have "A Toolkit for families" with some excellent wellbeing activities and ideas
Think U Know Online safety advice from ThinkUknow
RIO offer online support, for both businesses and families, for free, to help you through this difficult time.
Keeping children happy and safe online during Covid-19.
Mental Health and Wellbeing toolkit #2 from Mentally Healthy Schools.
Anna Freud Centre - Advice from Peter Fuggle.
Guidance for parents and carers supporting young peoples mental health and wellbeing during Coronavirus outbreak.
An amazing Children's book about Coronavirus
TIS UK This is a really helpful article from Dr Lynette Rentoul: Advice for parents during lockdown
Activities for Children from Devon & Cornwall Police.
UK Government advice for parents on supporting the mental health of children and young people
Young Minds have come up with some excellent ideas for conversation starters with your child during this time. Download the PDF.
Talking to Children about Coronavirus
How to survive an emotional Tsunami. A very interesting article about recovery and return to school after the coronavirus lockdown…
Wellbeing activities / ideas
The Anna Freud Centre - have some terrific self-care ideas for Young People
Children's guide to coronavirus - has answers to lots of questions your children may have.
Wonderful clip to explain the extra PPE an ambulance crew might be wearing.
Wave Project - Their website has activity packs for families (updated every week) and a helpful wellbeing guide
BF Adventures -are continuing to offer their Holiday Activity Days as normal during the pandemic and offering additional days to support local families / key workers
Fun activities from the Eden Project
Change4Life have some fantastic info on their website, such as indoor activities for Kids, mental wellbeing tips for parents and lots of tasty recipes!
Tips and advice from Every Mind Matters. Click here to read their 12 top tips.
Coping ideas / activities for younger children
Download the free activities here
Home ed ideas and fun stuff
See more ideas on the Keep Busy page on our website for young people
Cornwall Council Home Ed links / resources
BBC Bitesize - daily lesson plans and resources From April 20th The BBC will broadstart daily lessons on IPlayer and the Red Button backed up by their website. Check it out.
Young People Cornwall have an online youth club with great opportunities to get involved via their Facebook page
Audible - Free stories for children and young people from Audible Stories
Sadlers Wells Theatre - Check out the Ballet Boyz
Tate Gallery - Tate Kids - Play, make, explore and share on Tate's online art destination.
National Theatre Check out some great performances with shows to watch on YouTube every Thursday!
Make it Better CiC - Here's a fab offer from Cornwall's Make It Better CIC – free access to their art / craft activities including a new activity added every Friday. Sign up as an emerald member to browse their complete library of activity sheets or download a new activity every Friday.
Sock Bunny Challenge - take the Sock Bunny Challenge with link to challenge information
Kernow Education Arts Partnership offering artist resource pack.
The Writers Block Competition is open now for entries.
Lots of really good links to Books and Reading activities being offered from Harry Potter to How to Train Your Dragon!
Cornwall's own Miracle Theatre are hosting Miracle Mondays with streaming on their YouTube channel.
Or you can visit their website.
A list of free, online, boredom-busting resources from Chatter Pack.
Getting Active
Mid Cornwall Sports Network Join in one of the Mid Cornwall Sports Network challenges on Twitter every day!
Youth Sport Trust Physical Activity Bingo!! Click on the picture below and it will take you to the Youth Sports Trust website and MORE ideas. Have a go, it looks fun!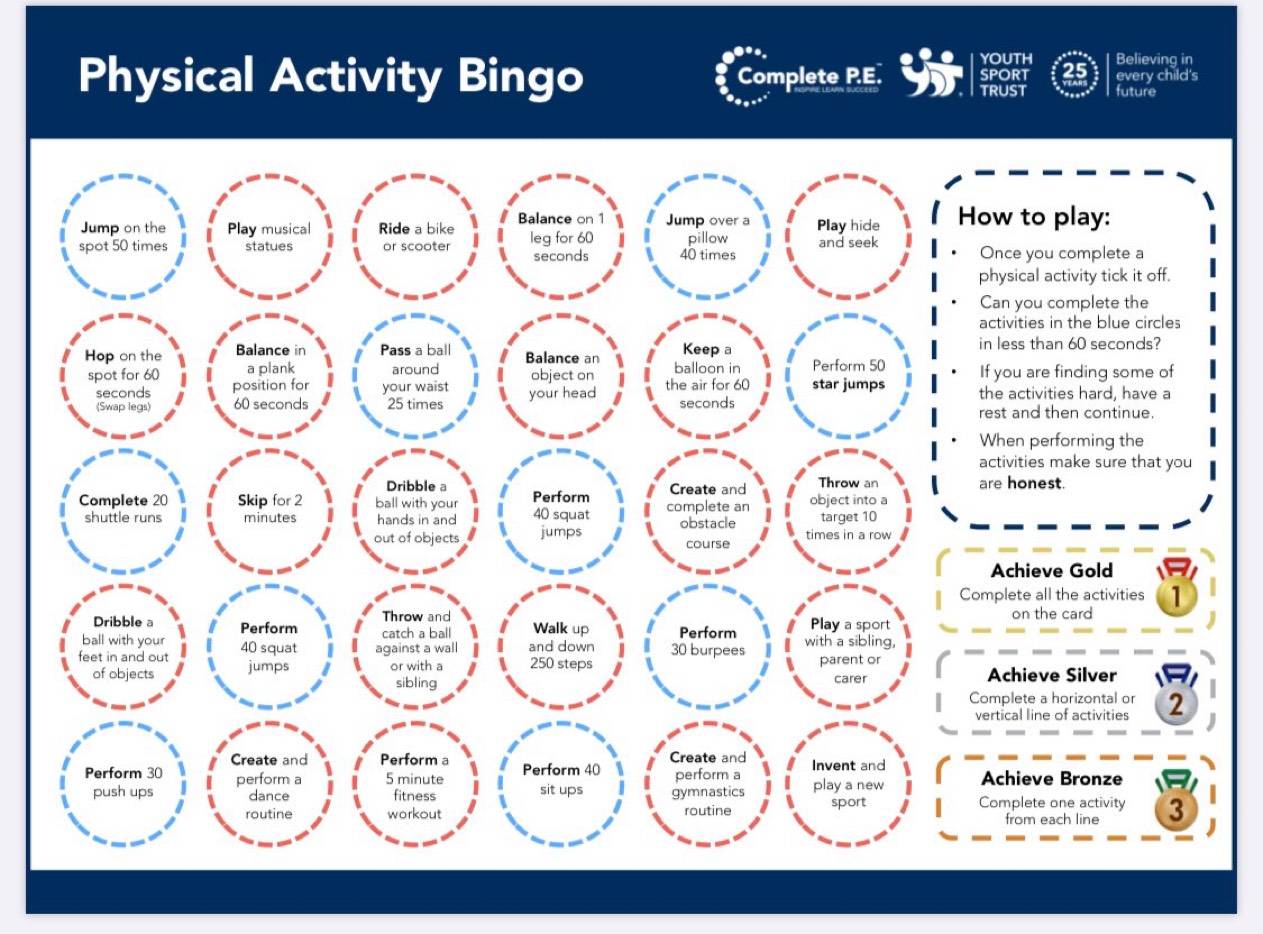 Here's a makaton version of the bingo challenge (pdf):
and have a look at the YST 60 second challenges too
More help with home ed
The Cornwall Association of Primary Heads - www.caph.org.uk have pulled together a brilliant list of links
Liskeard Hillfort School have pulled together some excellent primary home learning resources
Here's a whole heap of links to online learning sites from algebra to zoology (well almost!