Building resilience
and mental wellbeing for children and young people
Contact
Resilience and the Boingboing Resilience Framework

Psychologist Ann Masten refers to resilience as 'ordinary magic'. Young people involved in Headstart at the beginning of the programme called it 'Bouncebackability' and...
...the same young people asked that Headstart be about:
"There is a real danger in people thinking that 'resilience' is the same as 'grit and determination' and that it's somehow the responsibility of the child to display it".
(highly recommend the full article)
"Resilience is often defined by researchers as 'doing better than expected in a context of adversity' Professor Angie Hart and colleagues at Boingboing talk about what we can do to help people be resilient and say resilience is "beating the odds whilst also changing the odds" In other words instead of always expecting people to bounce back schools, councils and other organisations can also make changes to how they do things so life isn't so tough for people facing adversity.
Resilience, wellbeing and attainment
"Pupils with better health and wellbeing are likely to achieve better academically"
Support learners to develop their character – including their resilience, confidence and independence – and help them know how to keep physically and mentally healthy
Ofsted inspection framework 2019
The Resilience Framework
The resilience framework developed by Angie Hart and colleagues at the University of Brighton and Boingboing acts as a reminder to what is involved in building resilience. Our colleagues at Headstart Blackpool have developed some terrific work around the framework for children& young people and families.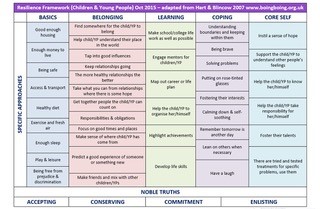 In difficult times we can all benefit from the Resilience moves highlighted on Boingboing's Resilience Framework. The Resilience Framework is a toolkit of things you can put in place for yourself, a child or across the school, so that everyone has a chance to bounce forward when life is challenging.
It was developed by Professor Angie Hart and colleagues at the University of Brighton, alongside families with a lived experience of adversity and practitioners. There are lots of versions of the Framework) and it's been translated into many different languages. Our colleagues at HeadStart Blackpool have developed some terrific work around the Framework for children, young people and families.
Resilience Framework in Cornwall
You can find our Cornwall version of the Resilience Framework here. This was inspired by Boingboing and HeadStart Blackpool's work but it's especially for our children, young people and families. You can use this framework to map all the things you are already doing, identify some areas you haven't tackled yet or to plan some Resilience moves you want to make with young people, families and staff across your school, as part of a Whole School, trauma-informed, relational Approach to wellbeing that is 'Everybody's Business'
Interactive Resilience Framework on the Start Now website
We've pulled together an interactive guide to the framework for young people on the Start Now website - with some simple ideas for putting the resilient moves into action.
Resilience Hero has arrived!
#ResilienceHero... a online game about the resilience framework, set in Cornwall, created in Cornwall... Resilience Hero is here. We're currently getting ready for a soft launch before HT. (October '23)
More about Resilience support in Cornwall
Training / workshops
We are putting the finishing touches to an short on demand introduction to the resilience framework which will be available from October ('23) on the Wellbeing Hub.
Academic Resilience Approach
Schools who are working with Mental Health Support Team and Mental Health leads to plan a whole school approach to mental health and resilience can use the free-to-download resources on the Boingboing website. These excellent materials, developed with schools, academics and young people, have helped schools and colleges all over the country to implement the Academic Resilience Approach (ARA). This was developed with YoungMinds and there are films about it here Schools and colleges love the ARA because it uses their strengths and reinforces a resilient culture that gives bouncebackability to pupils, families and staff.
Check out the Start Now You Tube Channel
There are some useful videos on our Start Now You Tube Channel including young people talking about resilience right at the start of the Headstart Programme and featuring one of the YP who helped get Headstart Kernow up and running back then... (his the one showing great resilience by doing take after take when filming) 😊 and one about online bullying created by a young person in Cornwall that was, in part, the reason we began to refocus on resilience.
Here Professor Angie Hart from Boingboing gives a terrific talk on making resilient moves (16mins)
Acknowledgement: (The Resilience Framework originated from the research and work of Professor Angie Hart, Dr Derek Blincow and Helen Thomas in 2007. See www.boingboing.org.uk for further details).
Page last updated: 19 October 2023