Building resilience
and mental wellbeing for children and young people
Contact
Staff wellbeing
Staff wellbeing and resilience is the foundation of a Whole School Approach to emotional wellbeing and mental health in schools.
Staff wellbeing surveys
There are plenty of surveys to use for staff wellbeing. Some are paid for / administered for you. Others are free to access and use. Some examples include:
Anna Freud - Wellbeing Measurement for Schools Staff Survey is available as a free downloadable PDF or can be provided as an online package along with analysis (at a cost to schools).
Example Staff Wellbeing Survey (Kent Resilience Hub))
Example Staff Wellbeing Survey and guidance (based on one created by Wiltshire Healthy Schools)
Staff Wellbeing resources
Education support line
No matter what you're feeling, our free, confidential helpline is always here 24/7 with trained counsellors here to listen and help you find a way forward. Please do contact us if you need to. Our Helpline number is 08000 562 561.
Schools Advisory Service
This is a staff absence insurance company and there is a cost involved but we're told by heads using them that they have an excellent staff wellbeing package.
https://schooladvice.co.uk/pastoral-and-wellbeing-resources/
Useful websites, tools, resources and books
Creative Education - Staff Wellbeing Deep Dive Webinar Series now available on demand
(and available free to access using the Cornwall Hub account - click here for a quick access link for you all your staff / governors)
Staff wellbeing has been the number one most requested topic on the Creative Education website so we're delighted to be bringing you 13 brand new webinars that focus on every aspect of this crucial area.
The series covers the following topics:
Workload: Simple Steps to Reducing Workload for Your Staff Team with Matt Bromley
Workload: The Leader as Model with Jonathan Dunn
Developing a Sense of Belonging, Purpose and Connection in Your Staff Team with Andrew Cowley
Headteacher Wellbeing: Introduction to Supervision with Seonaid Beasley
Positive Wellbeing Strategies for all Staff with Dr Pooky Knightsmith
Mental Health: Practical Strategies for Supporting a Colleague Who is Struggling with Angela Lawn
Supporting Staff Physical Wellbeing with Mark Salter
Managing your Wellbeing as Support Staff with Penny Hermes
Leaders: Modelling Positive Wellbeing Practice with Emma Meadus
How Working out your Core Values can be the Best Thing you ever did for your Wellbeing with Sue Webb
Leading Well on Staff Wellbeing with Kimberley Evans
Fostering a Sense of Agency, Self-care and Support Amongst Staff with Adrian Bethune
Support Wellbeing of Male Members of Staff with William Goldsmith
And our account gives you and your staff / governors full and free access to the entire Creative Education Platform until July 31st 2024.
(Contact us for more information / help getting signed up)
Anna Freud have some excellent staff wellbeing resources as part of their free 'Schools in Mind' network.
(clink on image or the link above to download)
Take What You Need Tokens - Dr Karen Treisman (more great resources on her website)
(Click image to download pdf)
Here is a lovely way one school used the tokens: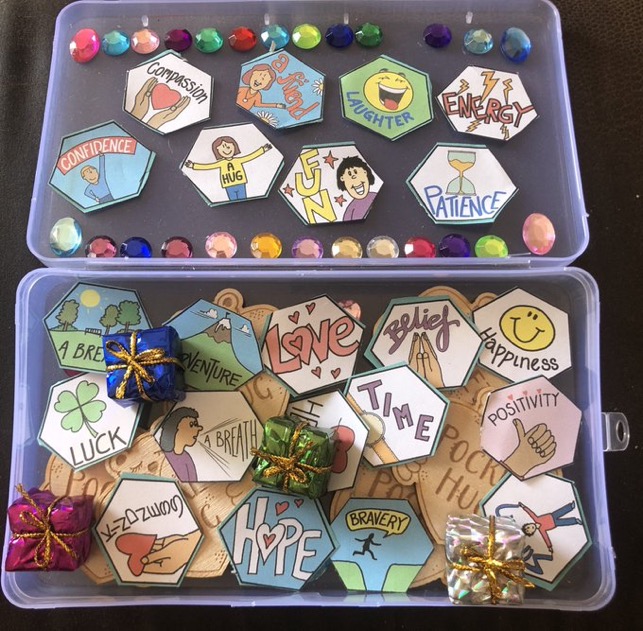 8 ways to improve staff wellbeing - Dr Pooky Knightsmith
A fabulous webinar from Pooky Knightsmith and a lovely guide too (pdf)
The DfE Staff Wellbeing Charter
The education staff wellbeing charter is a declaration of support for, and set of commitments to, the wellbeing and mental health of everyone working in education. All state funded schools and colleges are invited to familiarise themselves with the charter, and to sign up as a shared commitment to protect, promote and enhance the wellbeing of their staff. It is voluntary and there is no deadline to sign up.
Self care wheel - download
Staff support padlet
This is a super idea from Berrycoombe School - lots of staff wellbeing links via an easy to access / update Padlet. Thank you Michelle!
Staff Wellbeing Webinar
Recording of session held on 05 05 22 - given by Dr Clare Lowry Principal Education Psychologist
Presentation slides (from earlier 2020/21 sessions)
Page last updated: 17 October 2022